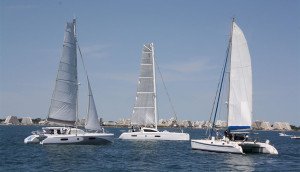 Since 1997 already, every May an annual regatta-weekend, the OUTREMER-Cup takes place at La Grande Motte, on the French Mediterranean coast. A visit there, or even better, active participation offers a good chance to get the OUTREMER virus and latest information about the whole range and latest developments. On this occasion, the OUTREMER owners, who are around, gather for a get together, to compare their catamarans, materials and skills. The different OUTREMER designs, brand new or already thirty years afloat compete in a series of Races organized by the OUTREMER-Yard team and the Yacht Club of La Grande Motte.
At the OUTREMER CUP 2015 (the 30th. anniversary of the OUTREMER Yard) a total number of 16 catamarans between 40` and 59` did compete.

Beneath the sporty competition, the exchange of owner's experiences and knowledge is the main target on this event. All Races are sailed and counted on real time without any time- correction between the different boat-sizes.
cat sale sailed aboard the OUTREMER 51' *CURIOUS* that had been handed over to the new owner family from Ukraine, the day before. After three days and six Races, we ended up at 9th. place over all, quite happy for our family crew amongst the most ambitioned French competitors. Some even sank the anchor gear ahead of the start to lose weight and gain performance.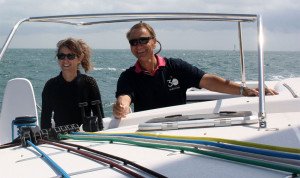 1st. OUTREMER 5X *Addiction * / France
2nd. OUTREMER 45 *Wally Walou * / France
3rd. OUTREMER 51 *Akaroa II* / Australia
We enjoyed the sporting challenge and the strong competition at the OUTREMER Cup 2015. With mild temperatures and light winds of 5-25 knots, sailing was easy and offered pleasure. Aboard our OUTREMER 51 ' *CURIOUS* we logged a max speed of 21 knots, tacking against a true wind of 25 – 30 knots.
The excellent sailing performance of the OUTREMER fleet was demonstrated impressively. We enjoyed numerous good encounters at sea and at the yacht club bar and shall be back next year again.
cat sale currently is involved in the building of two new OUTREMER catamarans, one OUTREMER 51 and the first OUTREMER 4X performance. Both under construction to be launched in March 2016.
Fair Winds and welcome aboard,
Klaus Tietze