Catch your next catamaran from cat sale!
cat sale is the no. 1 supplier of used multihull boats in Germany. As a member of the Multihull Brokerage Network, we offer the most extensive selection of catamarans and trimarans worldwide.
performance cruising multihulls, manufactured on renowned medium-sized shipyards, beyond the on-line charter catamarans, are our passion.
individuality and seaworthiness we offer you convincing multihulls for a safe and comfortable life on a long journey and we are happy to advise you.
These internationally renowned yacht builders trust in us:
As authorized shipyard representation
we look after you on all seven seas. Well positioned, we at cat sale have been successfully catamaran and trimaran operators worldwide for over twenty years. All medium-sized shipyards represented by cat sale plan and manufacture directly on customer request.
We have the best offer of pre-owened multihulls: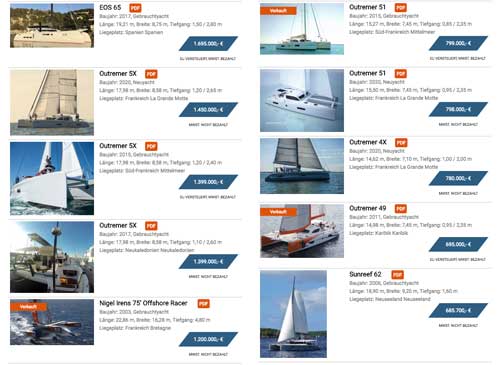 Find your next yacht
at cat sale. Whether two or three hulls: we have the largest selection of multihull yachts. Our offer is updated daily.
There you will find new and used Outremer yachts, NEEL trimarans new and used, Aventura catamarans new and used and numerous other multihull yachts new and used.
To our yachtmarket
Get your next multihull at cat sale!
We will find the right boat for you.
We provide expert advice and evaluations.
We ensure legally secure completion of contracts.
We sell your yacht at a reasonable and realistic price.
Sign up for our newsletter!
Subscribe to our cat sale newsletter!
and we email you with the very latest catamaran world news.
Read the latest cat sale newsletter:
Introducing
Europe's

largest multihull broker

cat sale acts as an official dealer for 5 international multihull manufacturers and every customer request is personally answered within hours by founder Captain Klaus Tietze.